Spring isn't here just yet, which means your furnace is working hard to keep your home warm. Soon, though, temperatures will start to rise. But that doesn't mean your furnace gets the summer off. Your furnace works every day of the year. During winter, it warms and circulates the air. During summer, it still has the important task of circulating cooled air. Help keep it running at its peak with these helpful tips.
Not many people know this but furnace efficiency, helping your furnace last longer, and saving money all go hand in hand.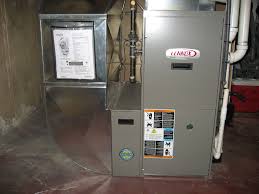 Like your car or any other machine, your furnace is subject to wear and tear, and the less it gets the longer it will last. Using your furnace efficiently not only saves money on your monthly gas bill, it also reduces wear and tear. If your furnace lasts longer, you won't have to replace it as often. By following the tips below, you'll save money – twice!
None of these tips are hard, but just like getting exercise or flossing, the key thing is to do them.
Check the filter regularly
Have you ever tried drinking a milkshake through a straw? It's not so easy, is it? That's the same effect a clogged air filter can have on your home heating and air-conditioning system. And the harder your furnace has to work to pull the air through, the more it will cost you in energy. And lost comfort.
The purpose of the furnace filter is to prevent dust and hair from clogging your furnace. But after the filter has been in place for a while, it gets full of debris. Your furnace then has to work harder to pull air through the densely packed filter, which places extra stress on the furnace.
How often you need to change your filter will depend on a lot of things. How often you clean, whether or not you have pets, and recent renovations can all make a difference. A good rule of thumb is to check the filter monthly for debris. If you can see hair and dust on the surface, then replace the filter or wash it if it's the reusable kind.
Regular system checkups by a professional
If you don't perform regular maintenance on your car, eventually it will break down. Your furnace is the same way. A regular inspection by a trained heating and air conditioning professional will make sure your furnace runs at its best. This has several benefits:
It costs less energy to heat and cool your home
Small problems are detected early before they turn into big problems
Your home stays more comfortable
Use a Programmable Thermostat
Programmable thermostats help you keep a tighter hold on your energy savings by matching the heating and cooling output of your system to the demands of your home.
they are one of the best ways of reducing your monthly gas bill, and they often pay for themselves in one year. They also reduce wear and tear on your furnace.
A simple 5-day/2-day programmable thermostat is not expensive, and it will allow you to set up a schedule for weekdays and weekends that will lower the temperature when you're away from home or sleeping.
In other words, when nobody is at home during the day, the system will run less often because there's nobody there to appreciate the comfort.
Keep the Area Around the Furnace Clear
Most furnaces are kept in the basement, where we also love to store extra belongings. It's really important to keep a three to five foot area around your furnace completely clear of stored items. This is a safety issue because there is burning gas in the furnace. But it also helps the furnace run smoother because air can circulate freely.
Get Regular Furnace Tune Ups
Make sure you have your furnace inspected and tuned up every year to ensure its running at peak efficiency. One faulty part can place strain on the rest of the system, and can lead to sudden breakdowns. You can learn more about the benefits of furnace tune ups here.
It may sound odd to use a fan in the winter, but they can help even out the overall warmth of your air. Heat naturally rises, and tends to collect near the ceiling. Running your ceiling fan on low to push the hot air down to the floor works especially well in rooms with vaulted ceilings.
keep a Good Humidity Level
Most people notice that the air in our homes tends to be really dry in winter. It's not only drying on skin and throats, but it can make us feel colder than we really are. Using a humidifier to bring your humidity level up to about 40% will help transfer heat better. You can lower the setting on the thermostat and not notice it. More humidity is also better for wood floors and furniture, and can help prevent asthma and allergy attacks. You can learn more about humidification here.
Make Sure your Garage Door is Sealed
The garage is one of the biggest culprits of energy loss in the modern home. Make sure the garage door is touching all the way down and there aren't any drafts around the sides are top.
By following these tips, you'll keep your furnace running smoothly all winter long. You'll also stay cozy and warm for less money.
Curtains are a Great Way to Save Energy
Strategically using your curtains can make a noticeable difference in your energy bill. By closing them at night, you can prevent heat loss to the cold outdoors.
Opening them in the day on south or west-facing windows allows warm sunshine to enter and heat the inside of your home, just like with a car left in a parking lot. On any north windows, try to keep them closed, even during the day.
Decorative Insulation
Carpeting and area rugs on floors help insulate against drafts. They also feel great underfoot, help with soundproofing, and make us feel warmer because they're so cozy looking.
reference : Wikipedia